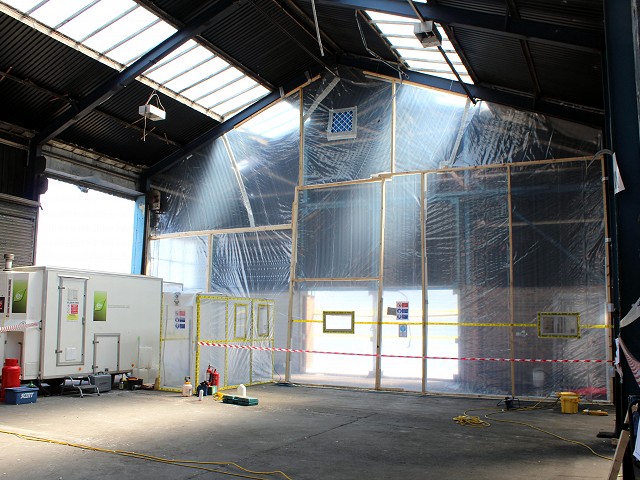 We have recently completed a job based in an old warehouse in Trafford Park, Manchester which is due to be demolished in due course. Our task was to remove all asbestos containing materials including the roof panels so the demolition company could proceed safely.
3 large enclosures were built around the whole interior of the warehouse, having 1 live enclosure at a time.
The enclosure live at the time of taking photographs was the final enclosure, and the remaining work would be done as non-licensed work afterwards.
The operatives were removing panels of AIB that was mostly whole (some were damaged prior to our site presence so were treated with extreme care) and wrapping them in polythene before then wrapping in red bags, and finally another layer in clear bags.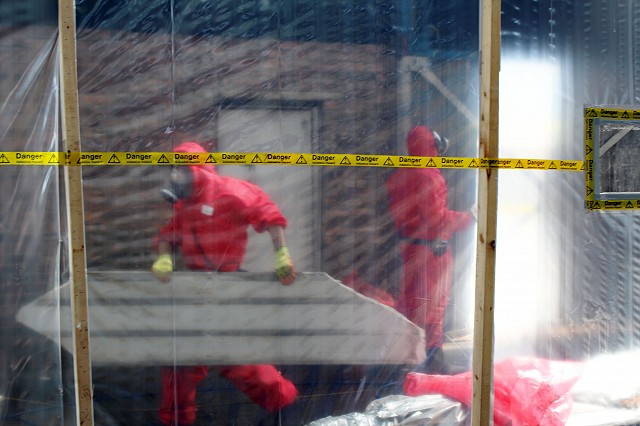 Asbestos operatives inside the enclosure had full-face motorised masks and type 5/6 red coveralls on.
Waste removal from the enclosure
Waste is removed via a 3-stage bag-lock attached to the enclosure. This reduces the chance of any contamination into the outside atmosphere. Operatives inside the enclosure are able to go to the middle section of the bag-lock, where waste is then double bagged with a clear waste bag on top of the red waste bag that has been put on whilst inside the enclosure. The 'outside man' who is wearing blue coveralls then can enter the first section of the bag-lock to pass the clear bags from outside and then collect and move the waste once double bagging and 'swan-necking' has happened (this is where the bag is taped up to avoid it from coming open when taken to landfill).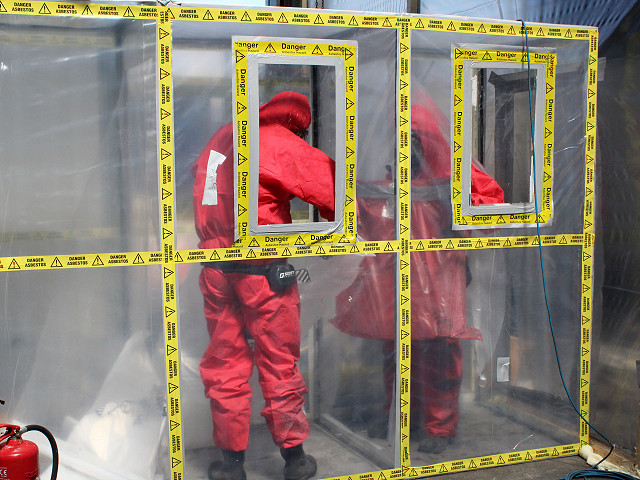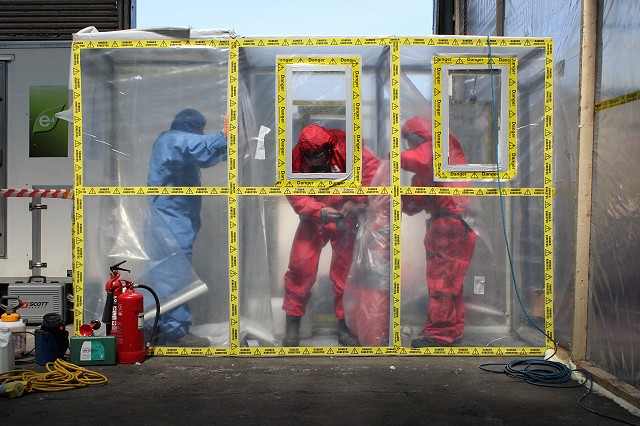 The 'outside man' then takes the waste via the designated waste route to the Asbestos Sealed Skip.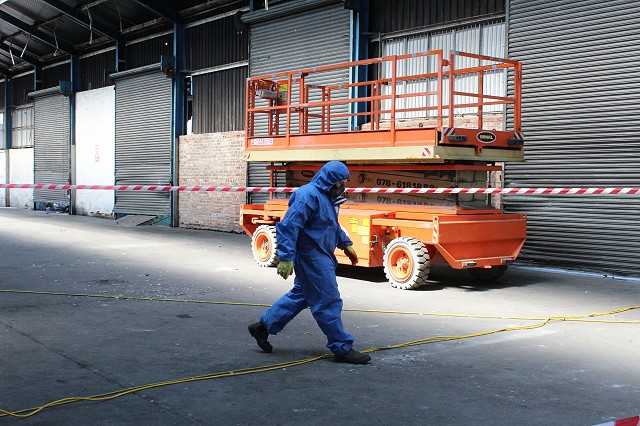 Enclosure
The enclosures are built with timber frames and 1000 gauge polythene is attached to the frames to create an enclosure, or 'tent'. Negative Pressure Units, and added filters to the top of the enclosure, ensure that air is flowing through the enclosure in order to keep fresh air circulating. The 'dirty' air with asbestos fibres is filtered through the NPU machine & caught in the filter, which is then treated as contaminated waste.