Ongoing licensed Asbestos removal project removing heavy duty industrial pipework containing asbestos insulation lagging to the internal areas of former engineering factory, Davy Markham in Sheffield. This is a large project with multiple phases and site teams present.
To read about the start of the project, click here to go to another blog post.
Our team have been on site since January 2020 and we have already completed some small areas of asbestos removal, as well as environmental cleans to areas to remove any potentially contaminated materials and pigeon guano.
The former boiler room of the factory has had all asbestos debris and residues removed, and works are now well underway of removing the industrial pipework. The pipes are at a high level, so we have worked alongside a licensed scaffolding company, Trident Scaffolding Ltd, and all asbestos enclosures are built upon this scaffolding for suitable access.
If you need a specialist Asbestos Removal expert, get in touch today. Our company is based in Sheffield, South Yorkshire, but we work nationwide across all areas of the UK.
Our team on site are working on multiple stages at once, with enclosures split into roughly 50 linear metre sizes. Part of our team will be preparing the next stage whilst the current one is live, this is ensuring smooth running of our operation and completing this project in a timely manner.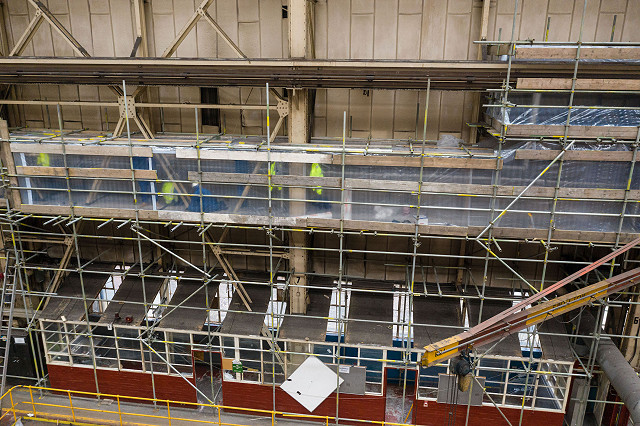 Operatives setting up next enclosure with 1000 guage polythene.
Removing pipe work with asbestos lagging
Asbestos operatives work inside the enclosure to ensure the removal of the pipework with asbestos lagging is fully controlled and secure. To remove the large industrial pipes, we must use the injection method. This is where strings of needles are used with an injection machine to wet down the materials in regular intervals down the pipework, which in turn means that the release of asbestos fibres into the air is prevented as they are sufficiently dampened. The pipes are then cut in to small, manageable sections and double bagged into red asbestos waste sacks, and disposed of as hazardous asbestos waste.
The works we have been doing are currently on Bay 5 & Bay 6 of the factory, which can be seen on the far right of the building.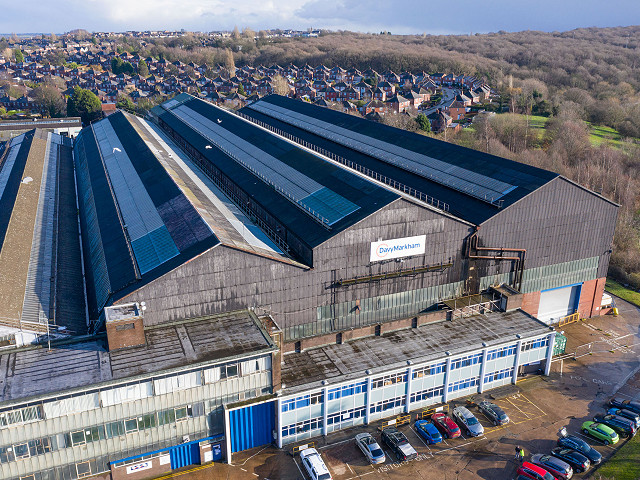 All images on this page were done by Nick @ Footprint Photography using a drone. For more information on his process, examples of previous work and to get in touch with him, please visit his website here - Footprint photography.